Whiteboard for agile coaches: why Qualdesk?

We're building a next generation digital whiteboard that's designed for you, the agile coach or scrum master. What are we most proud of?
1 Collaborate live in Jira, Linear and Trello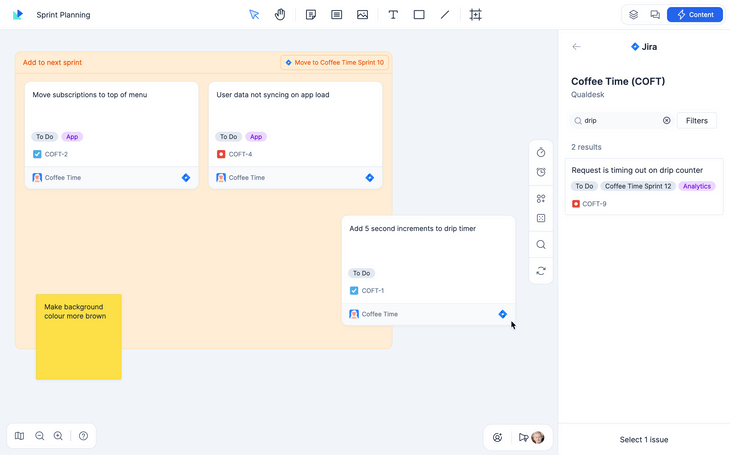 If you use Jira, Linear or Trello to manage your team's issues, stories and bugs, you'll feel at home in Qualdesk. Drag and drop items on to a Qualdesk board, and then work in realtime with your team. No need to write things up afterwards, as you can:
Update status
Assign issues
Add parent epics or projects
Add tags
Move to / from sprints, cycles or the backlog
directly from within Qualdesk. See other people's cursors and typing live just like in Google Docs or Figma – no more screensharing.
It doesn't matter if you're planning a whole sprint, or just want to run a quick session with a couple of people on your team – your data is a drag and drop away.
We've written more about the Qualdesk Jira integration here, more about the Qualdesk Linear integration here and more about the Qualdesk Trello integration here.
2 Create issues and add bugs directly from the whiteboard
Whether you use Jira, Linear or Trello to track bugs for your team, you don't need to interrupt your flow to get them recorded correctly.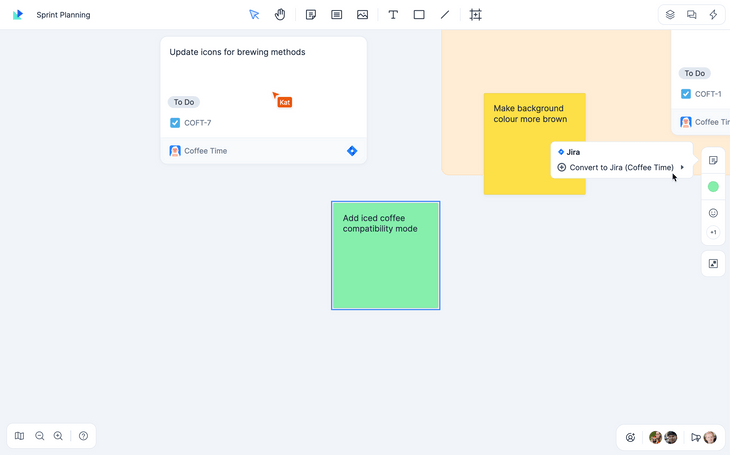 In Qualdesk, you can convert sticky notes and cards into tasks, stories and bugs with a couple of clicks. Perfect for capturing mid-conversation snags or ideas and making sure they don't get lost.
Plus, once you've captured them, it's just another couple of clicks to add them to the next sprint/cycle or assign them to a software developer on the team.
3 Rapid multiplayer estimation for Jira
No more awkward hand signals on video calls.
Our agile estimation mode lets each member of the scrum team add their votes in private, before revealing the results once everyone's ready. You can then discuss and agree estimates and send them directly to Jira – no need for you to type them up afterwards.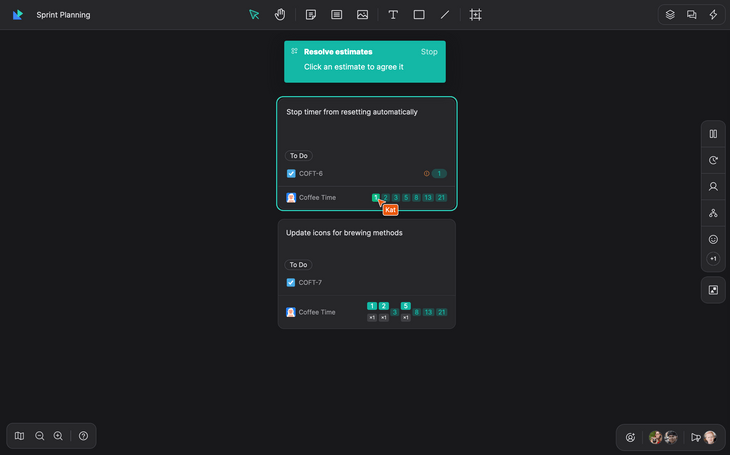 This also lets you run agile estimation for your team asynchronously: everyone can vote in their own time, before getting together for discussion and to finalize the estimates you send to Jira.
And much more
We publish release notes for every new feature, and ship new features 2-3 times every sprint. We respond to feature requests within 24 hours, and have a generous free plan. Our goal is to be the most agile-friendly whiteboarding tool in the world.